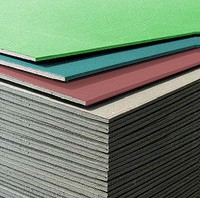 Dry Lining refers to the process used when attaching plaster based sheet boards to either a wooden stud framework , metal stud work or direct to brick or block works using an adhesive compound in a process called dot & dab.
It is popular, on both new build applications and refurbishment projects.
There are many different types of board used in dry lining, each one suited to a particular purpose or need, from standard wall boards to specialty boards:-
Moisture Boards

Used for bath rooms and rooms with high levels of condensation.

Fireline boards

Especially suited where additional support is required for extended fire retardation.

Sound boards

Used to reduce sound travel through walls and partitions or coupled with resilient bar can offer sound protection between floors.

Insulated Boards

Coupled with a layer of insulation these boards can be used to reduce heat loss and lower carbon emissions.
What ever the application there is a board to suite, and using the correct board for the job makes all the difference. Call the experts today and make sure your next project has the end result you expected.
UK Plastering Limited – Where experience counts …..